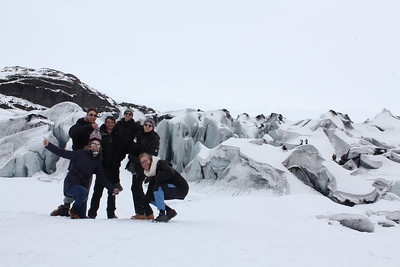 Even before I left to Iceland Mathilde (who I know through AFS) told me that she and some friends were thinking on doing a roadtrip along the South East coast of Iceland. She was wondering if I would be up to and she would let me know when they were going. This would be planned very last minute as the weather in Iceland is not always too predictable.
In the weekend of 14-15 March it was finally time. The Wednesday before Mathilde asked me if I were free that weekend. YES I WAS! On Friday after my language class Mathilde, Jen, Tommy, Mathias, Henry and I drove off  in 2 small campervans. In Iceland there are not many roads. There is only one main road that we had to follow, so navigating was quite easy. In Vík had a small break, from there we decided to drive straight to Diamond beach where we arrived around 10pm if I remember correct. The place we wanted to go was not very reachable due to deep snow, so we ended up in the parking lot of the Glacier lagoon.
When we arrived there there were some Northern lights visible. So while everyone was trying to organise and start cooking, I went out with my camera to take some pictures. I was not the only person. Many op my pictures got ruined due to people walking around with flashlights, but I'm very happy with the pictures I managed to take. In the biggest campervan, which was also our 'living/dining/meeting' room, we cooked pasta with pesto. A simple meal but for now it was good. I was happy when we could finally go to sleep after getting ready in the very smelly bathroom. For me this was the first time actually camping with a campervan. I think it was a very interesting, cosy and fun experience.
We woke up with really nice weather, after we had breakfast we went out for a walk. I did not realise how beautiful this place was the night before. We were at Jökulsárlón, or in English: The Glacier lagoon. As it was quite ice-ey, I put the spikes on my shoes. My parent's put those with my stuff and I was actually wondering when I was ever gonna use them. But now I was the happiest person ever! It made huge difference walking on slippery surfaces.
The scenery was amazing. So much white from the snow, then a beautiful lake with many pieces of Ice which probably (sadly) broke of the glacier, some seals which I was actually surprised about because I didn't know those were there and then, totally unexpected, there was this random boat in the middle of the snowfield.
After walking around at the Glacier lagoon we went to Diamond beach. This beach is definitly worth its name.  There are many (big) pieces of ice which really look like diamonds. Diamond beach is something I had never seen before, it was beautiful (as how I would probably decribe most places we visited).
The next stop on our list was Svartifoss. To get here we had to hike for a while. As we arrived at the parking lot around lunchtime we first ate before actually going up. Again, I was super happy with my spikes here. Not everyone of our group had those, so some had so slide down as the others with spikes could just walk. Before getting to Svartifoss we passed another waterfall which was already very pretty. While walking you had a great view on the Icelandic landscape which was mainly white and empty at the moment. Then we got to Svartifoss. Svartifoss is one of the most impressive waterfalls I have ever seen. It was almost unreal how stunning it is. The waterfall consists of basalt columns which made it very special.
From Svartifoss we continued our hike to the top of the mountain; Sjónarsker. There was a great view of the landscape here and we just sat down and enjoyed it for a while. Meanwhile feeling bad about not bringing water with us. Walking down again we walked into some lost French tourists who we could help in their own language as our group is pretty bilingual. Walking further we also once took the wrong path. But luckily we did not get lost and we could find back our campervans. There we decided we would stay the night in Vík at the campingplace.
Driving towards Vík we figured out that Fjarðrárgljúfur was on the way. So by texting people in the other van we decided to add one more stop to the day.  Unfortunately the other van missed the exit because they were discussing where the beautiful (lava field) landscapes came from. As they were driving in front we could still follow. With the next 'turning possibility' in 20 minutes driving we waiting until there were no other cars around and turned on the road. Not the most ideal, but it worked out and we only arrived like 15 minutesish after planned. Fjarðrárgljúfur is cliff, again as all other places very beautiful. I just must love the Icelandic landscapes. It is so unreal and something I'm personally not used to live around. So I also feel very lucky being able to live in this beautiful country for a whole year!
After visiting Fjarðrárgljúfur we drove on to Vík. the campingspace. Here we cooked Chili and rice which was super good. The campingspace was apparantly closed, but we could park and stay there.
Positive side: we didn't have to pay,
Negative side: we did not have running water or a bathroom….
So don't be surprised how happy we were in the morning when we drove down the hill and found a public bathroom. Or as I would say, the best public bathroom ever! After eating breakfast and freshening up we went to our first stop of the day: Reynisfjara.
Reynisfjara is the most beautiful, but also most dangerous black beach of Iceland. The beach is known to have sneaker waves. These waves are very unpredictable and have a strong current. Due to the snow we could kinda see how far the water could go up. So I tried to stay more towards the white parts. I did check out the cave, but of course keeping an eye on the water. Also the basalt columns were amazing to see from up close. Love how the earth can make stuff like this.
Next up was Dyrhólaey. From here you have a amazing view on the black beach / Reynisfjara. Also you could walk up the mountain. Again happy with my spikes. The path was pretty bad. Only Mathias and me ended up walking to the top. I was just very very curious to the views. Which were again amazing. There was also a very cute lighthouse on the top and we could see up to Vestmannaeyjar / the Vestman Islands. Somewhere this year I'm still planning to go there and visit Diljá and her family. Diljá was once an AFS student in my mom's side of the family.
View this post on Instagram
Then we went to Sólheimajökull, one of the glaciers on Iceland. It was a short walk thare accross the lagoon which was frozen now. This made it a bit harder to see where the glacier started and where the lake was. But it still looked amazing. I'm actually very curious on how this place would look like in the summer / warmer months. Now everything was white, but think then it might even look more spectacular as you really see the difference in glacier and non-glacier.
On the last part on the way back to Reykjavík we visited some of the watefalls. Skógafoss, Kvernufoss, Seljalandsfoss and Gljúfrabúi. Again, all beautiful places. Skógafoss and Seljalandsfoss were very touristy. Many people standing there and taking pictures. We just checked it out, but did not stay too long at those places.
Kvernufoss made a real impression on me, it was a small hike there, also passing some real Icelandic horses, and the landscape was just magical. I could've sat there for a very long time just enjoying the view and the sounds.
Gljúfrabúi is a cliff with a waterfall behind it. I'm super happy I took my rain pants with me, and I realised that my shoes were waterproof as well which made me even more happy. Pictures did not work out the best way within the cliff due to all the water around us. But it was just amazing.
Back in Reykjavík we dropped of our stuff, divided the leftover foods and we cleaned the campervans. Then we went for dinner to KFC/Taco Bell and returned the campervans. This weekend had been absolutely amazing. I really want to thank Mathilde, Jen, Tommy, Mathias and Henry again for letting me join on this trip.
Can't wait until I get a chance again to explore more of Iceland again. But with the current situation on the world I think that might be for a while. This trip was before all the Covid-19 restrictions. Soon I'll try to write an update on the situation here and how I'm handeling it so far. Take care everyone!!