Exactly one week ago I left the Netherlands and arrived on Iceland. One week already. Time flies! Some people have been asking what I have been up to, so with this blog I would like to give you a quick update.
The past weeks I had been preparing for Iceland. Some practical stuff back home, being in contact with the Icelandic AFS office and packing my stuff. As I expected Iceland to be super cold, I made sure to buy enough warm clothes in NL that I could take with. While packing I was surprised how much stuff I could actually bring. I even managed to fill my 40kg that I could take with.
February 18th I invited family over to say goodbye, while I already had said bye to some friends of mine earlier that week. The morning of February 19th I visited my grandparents' to say goodbye to them there.  Due to farmer strikes we didn't want to risk to get into a traffic jam on the way to the airport. My dad dropped me and my mom of at the trainstation from where we left to the airport. Good job to me….. I almost forgot the most important bag in the car. Luckily my dad could bring it just in time to still get into the train on time. Arrived at the airport we had much time left. We checked in my bags, went to the panorama deck,  had some food and then I waved my mom goodbye when she took the train back. For me that was the time to go through security to the gate. At the gate I ran into another Dutch AFS volunteer I'm working with who was gonna travel, such a coincidence.
View this post on Instagram
It was a good flight. The landing was in the the middle of a snowstorm, so it was a real welcome with Icelandic weather.  Aron and Mathilde, two AFS volunteers, picked me up from the airport. Aron dropped me and Mathilde (who I already knew) of at my new house where we put my stuff in my room. Then we walked to her place where we ate late dinner. In the picuture below you can see the house where I live now. It is the grey house in the picture.
Thursday I started at the office. Elín, a girl from Iceland who was at the same time on her exchange in Iceland, lend me her bike for one year. She brought this on Thursday to the office. The next morning it turned out the tire was flat, so I already to to fix it this weekend. At the office it was lots of practical stuff this week, also helping out with some tasks and getting to know the people in the office of course. Everyone is super nice and I'm excited for what will come!
View this post on Instagram
On Saturday morning I walked around Reykjavik. I'm living in the downtown area and I was curious about where I actually live.
In the afternoon there was Árshárið, this is an annual party for AFS volunteers. It was super nice seeing the volunteers I already knew and to meet more of the Icelandic volunteers. There was an afternoon program with some teambuilding and at night there was a vegan dinner and a party with some more activities. The party was musical themed, I borrowed a pink ladies jacket from one of the volunteers. One thing I have already noticed in Iceland: Icelandic people are very into Eurovision.
View this post on Instagram

Sunday morning I joined the free walking tour around the city. The streets downtown are heated, so I put on thinner shoes: worst decision ever. Of course we walked routes through snow and standing still in parks with snow so I got quite cold at the end. After the tour I went home to warm up and to get lunch. In the afternoon I went to the Icelandic pool with some volunteers; a whole new experience. Also being in an outside pool with 1°C outside was not the thing I would expect me doing this fast. It was very nice tho, and afterwards we went to get some icecream. This is also something that you could get yearround here, in the Netherlands icecream shops are usually closed in the winter. On the way back home it was dark and it snowed which allowed a beautiful view at the Sun Voyager.
Monday evening there was a chance to see the Northern Lights. I went out on my bike and waited. I did not see anyting, but my camera cought a bit. Earlier this week I already missed very good opportunity, Laura texted me when there were nice northern lights, but it was just after I went to sleep.
This week there are many holidays in Iceland. On monday it was Bolladagur. This is a day where everyone eats Bolla, which is like a bun.  Kids will have made a wand on this day and hit their parents while yelling "bolla, bolla, bolla", the amount of times that they hit and say bolla will be the amount of bolla that the kids will get. Then Tuesday it was Sprengidagur / explosion day, which is a day where people just eat until they can't eat anymore if I'm right. And today it was Öskudagur, also known as ash wednesday. For this kids dress up and sing songs at companies to get candy. I did see some kids walking around downtown, but as AFS is on the 4th floor the kids don't get there. I do want to mention that this is how I understood these holidays. Think it is about right, but it could be a bit different.
Today I started my first Icelandic classes at the Tin Can Factory. I'll be following a course for the next 6 weeks and hopefully I'll be able to understand and speak some of the Icelandic language soon. I also bought some children's books which will hopefully help me learning the language faster.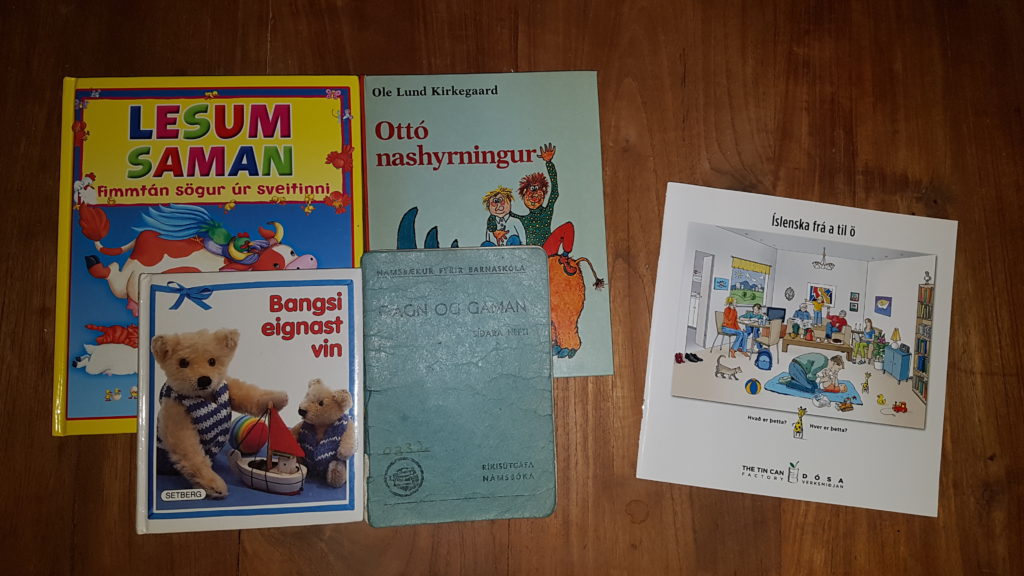 Think that's about it for now. I'm really enjoying my time here. I'm not sure how often I'll update my blog. If you want to really keep up to date you can also follow me on Social Media. Have a great day! Goðan dag!